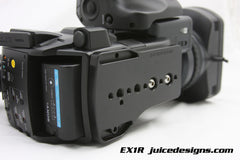 EX1 / EX1R Base Plate
We are out of stock on the EX1 and EX1R base plates.  Please contact us for pricing if you would like to have a special run of one or more made.
 CNC Machined aluminum base plate for the Sony EX1 / EX1R.

The EX1 & EX1R base plates work with our new accessory arm.
The EX1R base plate is specific to that model camera. We also have our new EX1/EX1R base plate that is universal to fit both cameras. If you order the EX1 model you will receive the universal one.
This plate protects the base of your camera from cracking and adds multiple 1/4" and 3/8" mounting holes.
Available in anodized black. The screws and allen wrenches are supplied. All you need is a #00 screwdriver to remove the stock phillips head screws from your camera base.
PLEASE SELECT THE CORRECT MODEL, EX1 or EX1R
This is a customer's video showing how a camera base can break, what it costs to fix it, and the install of the Juice Designs EX1 base plate. (install and concept is similar for all camera models)