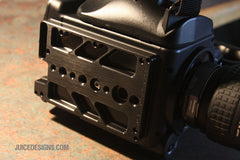 AF100 Base Plate
previously $124.95
This product is temporarily unavailable
We are out of stock on the AF100 base plates.  Please contact us for pricing if you would like to have a special run of one or more made.
CNC Machined aluminum base plate for the Panasonic AF100.
This plate protects the base of your camera from cracking and adds multiple 1/4" and 3/8" mounting holes.
Color - anodized black.
Attaches to your camera with the 1/4" and 3/8" bolts as well as 6 of the small base mounting screws for a solid mount. Other base plates only attach with a single 1/4" bolt.
The screws and allen wrenches are supplied. All you need is a #00 screwdriver to remove the stock Phillips head screws from your camera base.
This is a customer's video showing how a camera base can break, what it costs to fix it, and the install of the Juice Designs EX1 base plate. (install and concept is similar for all camera models)